Innovative products with quality
Made in Germany
All GVA products are manufactured exclusively as per GVA instruction in specialized and certified production facilities. The products are matching the desired application of the client including quantity, delivery term and quality standards.
The applied production processes and the material qualities depend on the application of the corresponding product. Accordingly, our products can be forgings, welding construction or castings. The quality level of their material can range from low-alloyed until high-alloyed, heat-resistant and corrosion-resistant.
rough product surfaces, pre-machined or finished-machined parts for immediate use.
In addition we distinguish between
We manufacture precisely according to customer production drawing and specification, alternatively we produce a GVA optimized solution and deliver in time and quality assured up to the customer plant.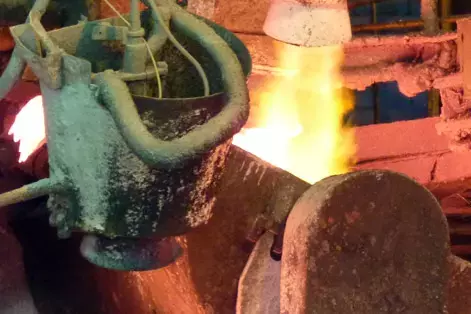 Copper Production
GVA develops and produces a vast array of products for the copper industry.
Sample applications are:
Converters

Parts for Converters

Slagpots

Pouring and Casting Channels

Ingot Molds

Ladles

Spare Parts for within the whole Process

Blow Mold

Oxide ceramic insulating and heat protection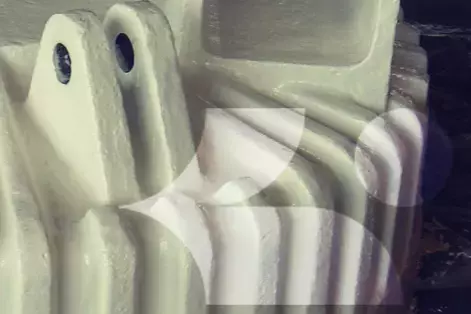 Magnet housings
The application area for electric magnets is within steel scrap handling, the recycling processes, loading and unloading scrap and handling of ingots in steel and forging mills. GVA Krefeld produces housings for electric magnets according to customer's requirements and drawings. Our magnet housings with a round configuration reach up to a diameter of 6 meters; rectangle housings have no limits in sizing and can be also produced in segments. The housing design and configuration can be individually executed according to the requirement.
GVA delivers the basic cast body, which is used by the customer to install his own accessories. As the choice of material for the base body plays an important role in performance and quality we are able provide support finding the correct material mix. GVA has developed a vast extent of improvements for modern magnets gained by the engineering support of active projects and holds a well-founded know how in this special segment.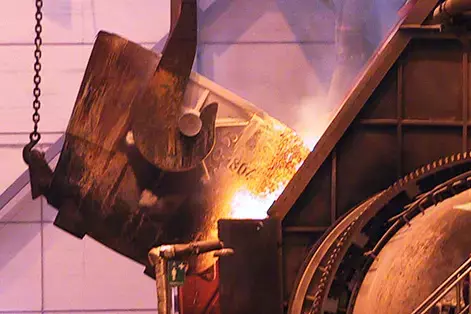 Slagpots
The name GVA stands globally for: THE SLAGPOT COMPANY
We develop your slagpot exactly according to your requirement, incorporating our design considering all your modalities and means of transportation. We draw special focus on the connecting dimensions and performance ratio.
Our Slagpots will match your existing equipment considering our design philosophy – no matter if there are multiple types of transfer cars, other mobile equipment or simple operation by crane. We are able to assist with complete planning and concept of slagpots within your steel mill. The slagpots will be individually adjusted to the respective application.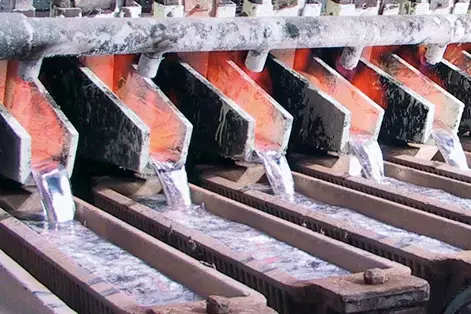 Aluminum Production
GVA Krefeld GmbH supports aluminum producers during the production process with different products, wear material and spare parts.
A selection these components are illustrated. Sample applications are:
Anode Yoke

Dross Pots and Covers

Slagpots

Container for Remaining Metal

Molds

Pouring Nozzles and Spouts

Casting Slide Gate Plates

Transport Channels

Pig Molds

Molds for Desox Aluminum

SOW Molds

Spare parts for Casting Lines

Suction Tubes

Oxide ceramic insulating and heat protection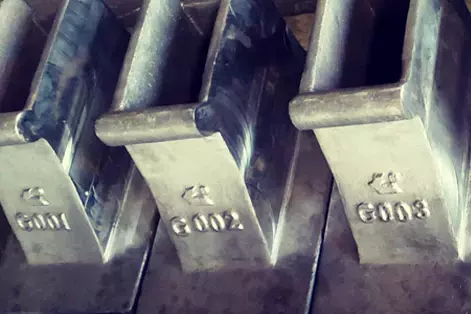 Castings
Castings from:
Iron with lamellar, vermicular and spheroidal graphite, low and high alloyed

Cast steel, also alloyed

Heavy metal casting, bronze, brass

Light metal castings, aluminum- and magnesium alloys
Hand-form castings: small, medium and large casting:
Grey cast iron (EN-GJL, old "GG") -> max 160 t weight per piece

Cast iron with vermicular-type graphite ( EN-GJV, old "GGV") -> max 80 t weight per piece

Cast iron with spheroidal graphite (EN-GJS, old "GGG") -> max 120 t weight per piece

Cast steel, carbon steel and low alloyed -> max 160 t weight per piece

Cast steel, high alloyed -> max 40 t weight per piece

Nonferrous metals
Machine-form castings:
All steel, iron and metal alloys (size depends on size of molding box)
Investment castings / Lost wax casting technique:
All steel, iron and metal alloys with max 60 kg weight per piece
Vacuum form process:
With polystyrene pattern, for all steel, iron and metal alloys
Gravity and pressure die casting:
Aluminum and magnesium alloys

Heavy metal castings

Grey cast iron (EN-GJL, old "GG")

Cast iron with spheroidal graphite ( EN-GJV, old "GGV")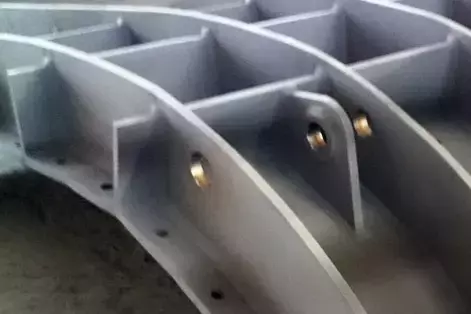 Welding constructions
We are your number one address for specialized fabrications and serial welding constructions including heavy weight components up to a unit weight of 100 metric tons.
Exemplary application: Scrap baskets, Ladles, Transfer cars, Converters, Components for converters, Pressure vessel, Furnace cover and roof and Hydraulic- / Plunger cylinder.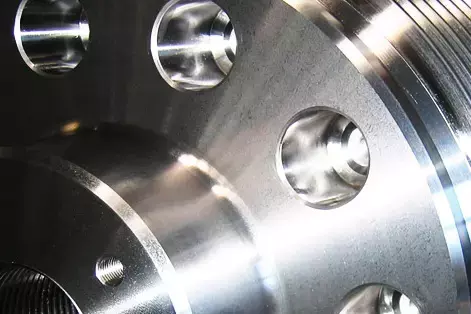 Forgings
Our product line includes open die forgings with unit weights of up to 120 metric tons and die forgings with unit weights of up to 1.500 kg. Low- and high-alloyed steels are used according to the particular requirements and utilization. As per clients wishes the forgings will be delivered as a rough forging, pre-machined or ready for installation including heat-treatment. The product area of GVA ranges from small die forgings such as steering knuckle pins up to gear cutted forging rings (max. diameter 6500 mm) and finely balanced 120 tons generator crankshafts.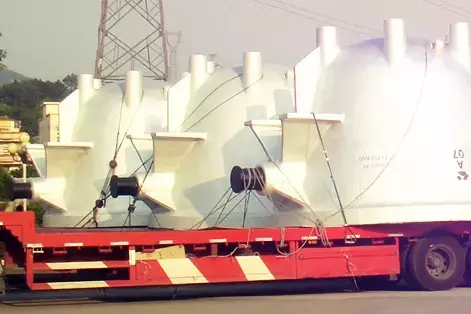 Logistics & turnkey Solutions
Because of our available worldwide production locations you are benefitting from the best-matching facility to your requirement as well as the logistically most efficient solution. We supply not only container cargo or truck-sized products but also heavyweight and over-dimensioned components to your seaport of choice or even to your workshop.
GVA is adding a choreographed logistical system – We ship products to any international destination and are able to fulfill all necessary formalities and regulation given by the country of destination.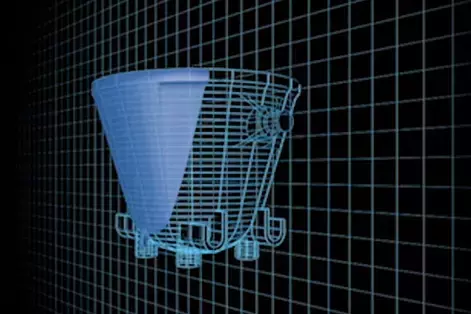 Optimization and Engineering
GVA is specialized in the field of metallurgical technology, engineering tooling components and logistical vessels. In addition to the main application areas for the Steel, Copper, Aluminum and Nickel industry, GVA's product solutions are also used in all other melting operations.
GVA supplies designs and engineering, feasibility studies, simulations, prototypes, single- and serial products for your applications.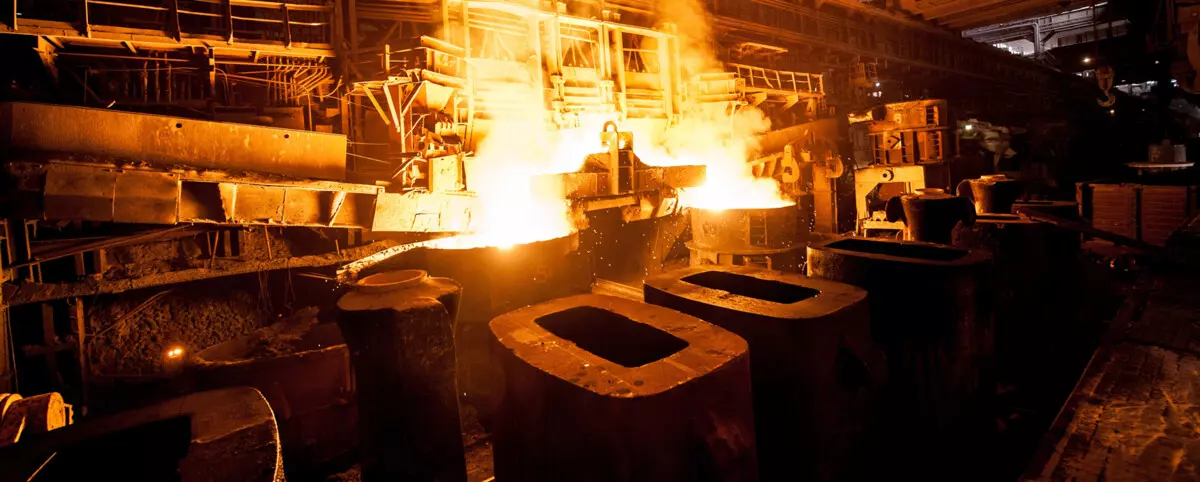 Made in Germany. High Quality. Custom made.